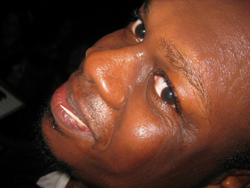 Keys
deVon R. Gray may be the world's last cultural enigma. The multi-instrumentalist, classically trained composer is as comfortable writing orchestral and operatic works as he is churning out jazz riffs and hip-hop swag. And he does it all so effortlessly even he is unaware that he's working. While many creators spend hours perfecting their craft & skills, dVRG, as he is known, envisions the pen and watches the music write itself. Word.
Projects
Brother Ali & Blank Tape Beloved
Chastity Brown
Chihuahua City
dVRG is currently working on his debut solo album. The album will be a mix of his own compositions as well as collaborations. He'll also be in the role of producer; working with other song writer's tunes, helping to breathe life into their ideas.