Come see an incredible live show from Heiruspecs, from one of the Twin Cities' livest bands, be first to preview Saint Paul's newest bar in action, all for a great cause! View the Facebook Event for more info This event is a fundraiser to help reelect Saint Paul City Council Member Melvin Carter, who has represented Ward 1 since 2007. Council Member Carter's work on the council has focused on driving citywide education reform to close the Achievement Gap, making sure light rail transit serves its adjacent neighborhoods well, and bringing jobs, housing and economic development to the area. His re-election campaign is DFL- and Labor-Endorsed.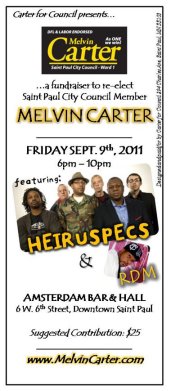 SUGGESTED CONTRIBUTION: $25 (More if you can, less if you can't!)
EVENT CO-HOSTS & SPECIAL GUESTS INCLUDE: Feleg Abraham, William Baker, Damien Bass, Brett Buckner, Richard Carlbom, Lawrence Carter, Adenike Chon, Erin Dady, D.J. Danielson, Corey Day, Katey DeCelle, Cristina Diaz, John Doan, Jeremiah Ellis, Leavon Fields, Kris Fredson, Alanna & Anthony Galloway, Dennis Gerhardstein, Jon Grebner, Briana Halverson, Pakou Hang, Shawntera Hardy, Joshua Harris, Eric Haugee, Courtney Henry, Libby Kantner, Acooa Lee, Kyle Makarios, Roosevelt Mansfield, Michael Misterek, Kasidy Moore, Nick "Mastermind" Muhammad, Kable Reid M. Kathleen Murphy, Jonathan Palmer, Erica Schumacher, Darren Tobolt & Wendy Underwood, Anika & Roi Ward, & John Ward.