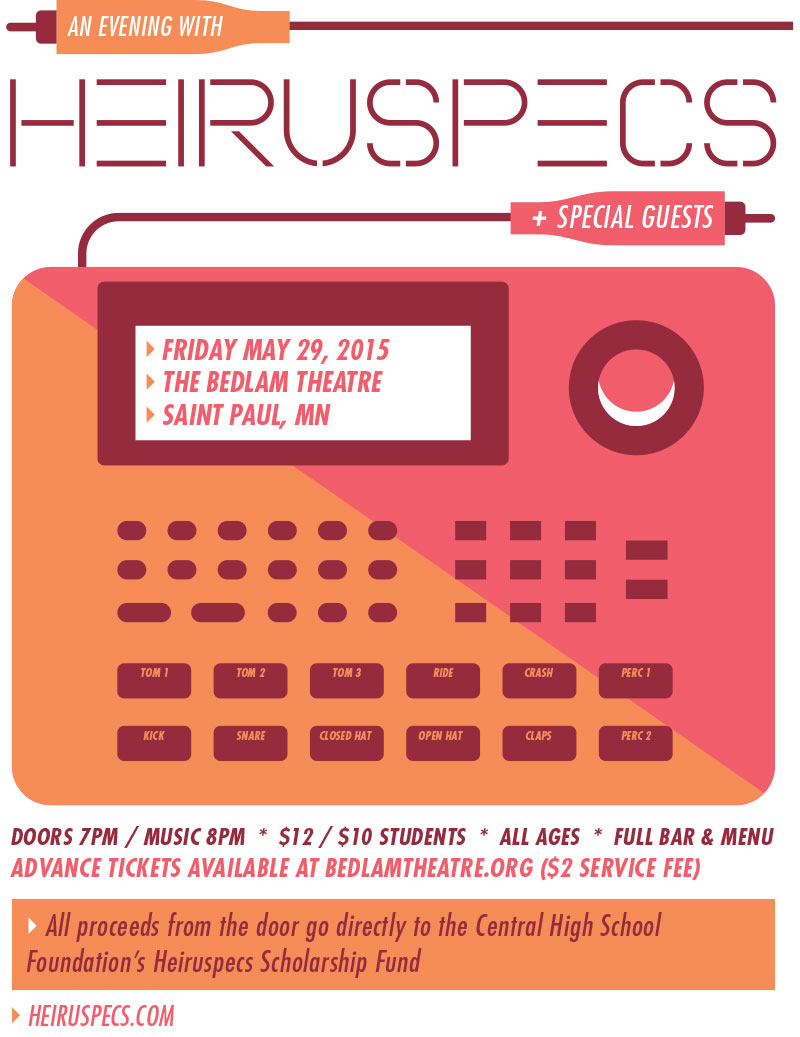 Heiruspecs & The Central High School Foundation are proud to announce the Fifth Annual Heiruspecs Scholarship Fundraiser Show
An Evening With Heiruspecs
Friday, May 29
Bedlam Theatre
St. Paul, MN
Doors 7:00 p.m. | Music 8:00 p.m.
Cost: $12/$10 students
This event is suitable for all ages.
For the fifth year, Heiruspecs will be hosting a star-studded affair to raise funds for their scholarship fund with some of their closest musical associates. This annual concert is a chance for Heiruspecs, one of the most successful bands to ever come out of St. Paul Central, to give back to the excellent high school where the band formed in 1997.
Heiruspecs has been lucky to have a number of their close friends join them for their scholarship performance. Past surprise guests include Brother Ali, Sims, Lucy Michelle, Mayda and more. This year Heiruspecs has a number of excellent guests on tap, including the talented trumpet player, Solomon Parham and the female Orlando MC, E-Turn, who is making a short residency in the Twin Cities starting at the end of May. There will also be some surprise guests joing us s well.
Heiruspecs is beyond excited to bring their show this year to the Bedlam Theater in Lowertown. Since coming on to the scene in Lowertown, the Bedlam has brought the type of exciting and inventive programming that St. Paul has been hungering for. The theater setting will also permit Heiruspecs to share the full breadth of their musical offerings, including the more nuanced elements that can often get lost in a club setting.
There will be ample seating as well as a standing area at the show. Advance tickets are available at bedlamtheatre.org.