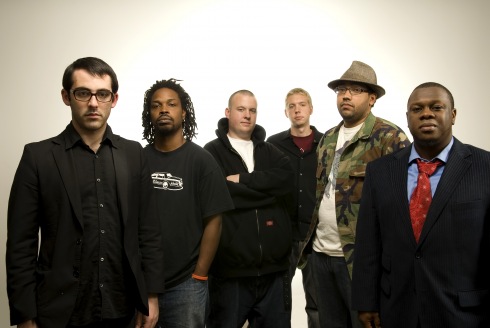 My name is Felix and oh my... this is the May Newsletter. Late edition.
Time flies when you're busy. Heiruspecs has been playing shows here and there and everyone's side projects are keeping them really tied up. This is a good thing. Summer is just around the corner and I spy fun! This coming weekend (May23-25th) we actually have 2 shows in driving distance from Minneapolis/St. Paul. It's that time of year when the outdoor shows start happening all the time. It's beautiful. First up, Bella Music Festival is having us out on Friday night in Harmony Park. We're playing at a great time and rocking it with Dessa Darling of Doomtree and Del The Funky Homosapien.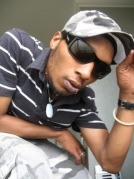 If you don't know who Del is, that's all the more reason to come through and check out the show. He's been putting out records for a LONG time. He's one of the founders of Heiroglyphics out in the Oakland CA area and longtime underground hero. Although he's played Minneapolis many a time in the past, I don't think I've ever seen him play outdoors before. It should be a good time. If you like, you can even camp at this show. Bring a cooler, a tent, your good times, and your laughter too... More info -http://www.bellamusicfest.com/Bella%20Madre/Home.html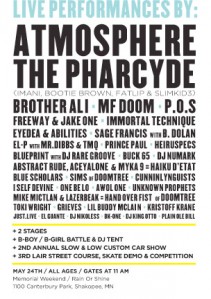 On Sunday, we're playing the Fifth Element stage at Soundset. If you aren't sure what soundset is, that's OK> Here's the flyer. It looks like information overload, but trust me, we're in there! Last year this was held in the Metrodome parkinglot. I couldn't be there but my homey St. Paul Slim (Congrats on your engagement homey!) told me it was amazing. This year, they're holding it at Cantebury Park to allow for a larger crowd after drawing more than expected last year. You already know how to act, now show that you know your manners in public. http://www.myspace.com/soundset
May 29th, Big Trouble will be playing at the 331 Club in NE Mineapolis. For those who don't know, this is a mostly instrumental band featuring Twinkie, Peter, Josh, and occasionally others. There's never a cover at the 331 Club. Just make sure you have a real ID. On June 7th we'll be playing at Grand Old Day street festival in St. Paul again. Last year was so fun we had to come back. We switched the spot to allow someone else to have a magical day down the block. This time we're playing at Salut near Grand and Victoria. Salut is awesome, you are awesome, shouldn't you be where you belong? Seriously, last year we had well over 5000 people watch us. This year I suppose we could try to top that. What do you think? -http://www.grandave.com/grandoldday/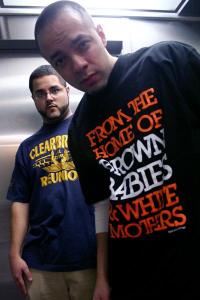 To switch gears a little bit, there is some news in what our good friends are up to. When we put out our album, Medium Zach from Big Quarters took the liberty of remixing one of our tracks. It sounds dope. I don't think enough of you have heard it. Maybe I'll get it on http://heiruspecs.com/ sooner than later. Keep an ear out for that! Big Quarters have released a new album called From the Home of Brown Babies and White Mothers. It's ill. It's worth a look at very least and you can check Big Quarters out at http://www.bigquarters.blogspot.com/   Well worth checking out... Speaking of friends, there's a rumor going around that a guy wearing a Heiruspecs shirt just opened a new eatery in North East Minneapolis called, uh... NORTH EAST SOCIAL. I stopped in the other day and it was packed. Don't tell everyone, they don't have room. They do have our new album playing in the kitchen. The food is excellent and it's on the corner of 13th St. and 4th Ave. NE. Now I've gone and said too much... http://northeastsocial.com/   Stuff coming up or out over the next month - Felix hosts GET CRYPHY on June 6th with Jimmy 2 Times and Plain Ole Bill -http://www.myspace.com/cryphygetting
Maria Isa has a new album coming out - CD release party at First Avenue Trivia Mafia is everywhere (pronounced; ER-VERR-EE-WHURR)http://www.triviamafia.com/ For you speed demons, on May 30th, Felix and TMF Opposition present DDYK round 4 at Elko Speedway -http://www.tmfopposition.com/ I feel like I missed something... I'm SURE I missed something. Updates to follow on http://heiruspecs.com/ so stay tuned people!