The live hip-hop band Heiruspecs — one of the most successful bands to come out of St. Paul Central High School — has joined forces with the Saint Central High School Foundation to create a scholarship fund at the school. Heiruspecs will stage a benefit on behalf of this important new fund at the St. Paul Central auditorium at 7pm on Thursday February 25.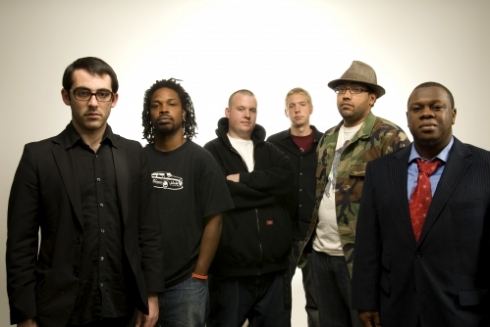 Saint Paul CentralHigh School has graduated a lot of great groups and individuals since they first opened in 1866. The arts have also been revered and celebrated at Central, a rarity in this day for an urban public high school. This commitment to arts education has helped make Central a fertile breeding ground for some of Minnesota's finest artists. Central arts programs have helped launched the careers of some of the finest names in music including Mint Condition, The Abstract Pack, Mayda Miller and many others. The live hip-hop group Heiruspecs is honored to be a part of this great tradition. In the hopes of continuing and fortifying this great tradition Heiruspecs is hosting a concert to raise funds for an annual college scholarship they are launching in partnership with the St. Paul Central Foundation. The first awards will be presented at the Scholarship awards ceremony in the Spring of 2010 at St. Paul Central.
On Thursday February 25 St. Paul Central will open its auditorium to a large-scale concert by Heiruspecs and their extended family. We are calling on all of our friends and collaborators to help us make this the biggest event in Heiruspecs's twelve-year history. The group started in 1997 in the basement of St. Paul Central where Chris 'Felix' Wilbourn and Sean 'Twinkie Jiggles' McPherson met up with Red Freeberg's advanced recording program. Soon Heiruspecs was a group full of horns, drums, emcees and youthful energy-sharing members from the more traditional band program upstairs and was making connections with Jan Mandell's Touring Theater Program as well. After class and on the weekends Heiruspecs was filling Central's Black Box Theater and networking with the larger Minnesota music scene. A few short years after Heiruspecs' time at Central they were a national touring entity signed to a Sony/BMG subsidiary and sharing stages with Ja Rule, Cake, Lyrics Born, the White Stripes and many others. During this time Heiruspecs also cemented into a permanent group of six, all of whom are proud former students of St. PaulCentralHigh School. The scholarship concert will feature many guests from their long history, strongly leaning on their fellow St. Paul Central alums to help make the event special. An announcement of featured guests and opening acts will be released in early January.
Heiruspecs is pleased to be partnering with the Saint Paul Central High School Foundation, a 501(c)(3) non-profit, which will function as the fiscal agent for this scholarship effort. As stated in their materials, one of the Foundation's is to provide financial assistance to recent graduates pursuing post-secondary education. The Heiruspecs scholarships will focus on students with demonstrated artistic interests. Donations may be made online at centralhighschoolfoundation.org. Please write "Heiruspecs Scholarship" in the "designate my donation" field. 100% of the profits from the ticket sales will also be donated to the Saint Paul Central High School Foundation. Heiruspecs and the Saint Paul Central High School Foundation will announce the amount raised for the scholarships after their fundraising campaign is completed in early March.
The Heiruspecs Scholarship Fund Concert:
Thursday, February 25, 2010
7:00 p.m.
Central High School Auditorium
275 Lexington Parkway North
St. Paul, MN
$16 – general admission $10 – students (K-12 and college)