BIG THINGS TOMORROW! As you probably know by now, we have a big show tomorrow night at the Triple Rock as presented by The Current. Ill Chemistry, MPLS Dub Ensemble and DJ Bill Caperton are lined up to open. There are 2 shows.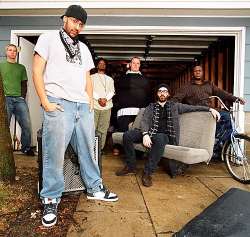 Confirmed special guests for our set: Desdamona, Bill Caperton, Dessa, New MC, Danami, Lioness, Mastermind of G.O.B. 5pm - ALL AGES 9PM - 21+ Presale tickets available at 5th Element(http://www.fifthelementonline.com/) , Triple Rock (http://triplerocksocialclub.com/) and Indietickets (http://www.indietickets.com/tickets/customer/home.php) NOTE - 21+ PRESALE TICKETS AT 5TH ELEMENT ARE ALMOST SOLD OUT AS OF 12/24.

Heiruspecs is in the press at the moment.... The Onion calls Small Steps the best of the decade here: http://www.avclub.com/twincities/articles/the-decade-in-local-music-2002,36271/ Also, we're in the Star Tribune in a story where they feel we're still the kink of the live band/hip-hop hill in the Twin Cities. Thanks! http://www.vita.mn/event_detail.php?event_id=86185&elr=KArksD:aDyaEP:kD:aUt:aDyaEP:kD:aUiD3aPc:_Yyc:aU5PaEk:1cuU and.............................. It's a holiday for many of you so I'll keep this one short. Here's a video of us playing at Sauce Soundbar a few months back. Good times.