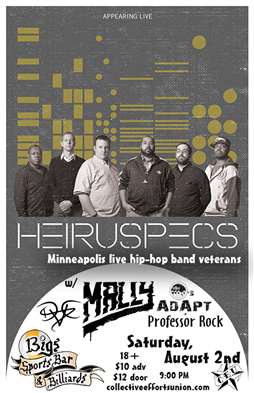 Greetings Heiruspecs family,
Sean here. We are headed out to Sioux Falls on Saturday and it has been an inexcusably long time since we've been there. The city has always been great to us and the promoter we work with, Jayson, is just incredible. We are playing at a new spot we've never done before called Big's Sports Bar. We hope you'll get the chance to come out.
We are excited that Mally and his DJ Last Word are coming out with us on this trip. They've been doing great things, including securing a tour alongside Brother Ali. That is quite an honor indeed. So, be sure to get there early to catch an amazing set from one of the best rappers out of Minneapolis.
We will also be joined by local Sioux Falls talent AdApt, Professor Rock and Diverse City. We haven't met Professor Rock or Diverse City but AdApt puts on a hell of a show and we've been knowing him for years. We'd love to see you there this Saturday!