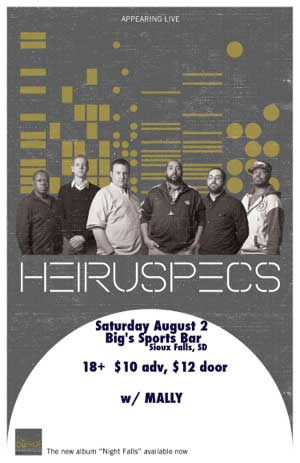 Saturday August 2
Big's Sportsbar
3110 W 12 St Sioux Falls, SD 57104
18+, $10 advance, $12 door
With Special Guest Mally
The Twin Cities hip-hop legends, Heiruspecs, will return to Sioux Falls for their first show there in over three years. They will be joined by Twin Cities rapper Mally.
The best live hip-hop band is back at again in support of their new release, Night Falls. Heiruspecs started in 1997 in St. Paul, MN and they've been a nationally touring entity since 2002. After a couple years working on solo projects and as collaborators with Brother Ali, Dessa, Chastity Brown and more Heiruspecs is again adding dates across the nation.
Heiruspecs is honored to be returning to Sioux Falls as one of their first out of state appearances in 2014. The group's first show in Sioux Falls was in 2003 at Washington Pavillion. Starting with that show the crew has built long alliances with many Sioux Falls mainstays including Soulcrate and Jayson Weihs, their trusted promoter who is presenting this show. Heiruspecs is looking forward to sharing tunes from its new catalog with their Sioux Falls fanbase. The crew has matured in life and in sound and the new record has been described by L'etoile magazine as wielding "considerable power into some super-heavy grooves" and City Pages credits lead vocalist Felix with a "palpable new confidence".
Heiruspecs is honored to be joined on this show Mally, a celebrated MC from the Twin Cities hip-hop scene. Fresh off a celebrated appearance at the official Soundset pre-party and the celebrated release of his most recent album, The Colors of Black, Heiruspecs is beyond excited to share one of Minnesota's great acts with Sioux Falls.</p