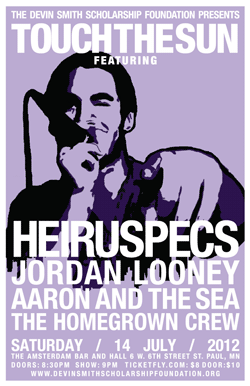 The Devin Smith Scholarship Foundation Presents: Touch the Sun on Saturday, July 14 at Amsterdam Bar and Hall in Downtown Saint Paul. Heiruspecs will be in attendance, along with Jordan Looney, Aaron and the Sea, and The Homegrown Crew. 
Tickets are $8 on Ticketfly or $10 at the door. Doors at 8:30 p.m.
Visit the Devin Smith Scholarship website for more info.