Heiruspecs is honored to be playing for the first time in their eighteen year career in Anoka. The crew will be heading up to Anoka for a performance on Wednesday February 25. The crew will be keeping a relatively quiet profile for the winter months in anticipation of starting a new quarterly video and video single release schedule in the second half of 2015. So, take the opportunity to see Heiruspecs in an intimate environment. Be sure to grab your tickets in advance. Visit the Lyric Arts for more information!
Stone Arch Bridge Festival Draws a Crowd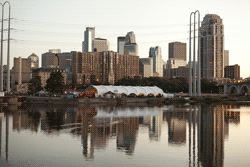 Thanks to everyone who came out to St. Anthony Main for the Stone Arch Bridge Festival.